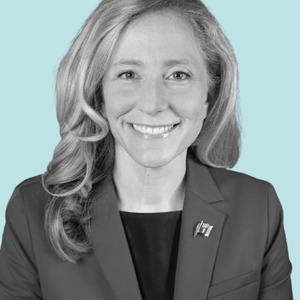 Rep. Abigail Spanberger
Special guest
U.S. Representative Abigail Spanberger is proud to represent Virginia's 7th Congressional District, which is comprised of ten counties throughout Central Virginia.
Representative Spanberger began her career in public service, first serving as a federal agent with the U.S. Postal Inspection Service investigating money laundering and narcotics cases, and then serving as a case officer with the Central Intelligence Agency (CIA). As a CIA officer, she worked at home and abroad to collect vital intelligence, keep our country safe, and work in furtherance of our national security priorities. In the private sector, Representative Spanberger worked with colleges and universities to help them diversify their student bodies and increase graduation rates.
Representative Spanberger serves on the U.S. House Committee on Agriculture and the U.S. House Committee on Foreign Affairs. On the House Agriculture Committee, she serves as Chair of the Conservation & Forestry Subcommittee and as a member of the Commodity Exchanges, Energy, & Credit Subcommittee. And on the House Foreign Affairs Committee, Representative Spanberger serves as Vice-Chair of the Europe, Eurasia, Energy, & the Environment Subcommittee and as a member of the Asia, the Pacific, & Nonproliferation Subcommittee.
Representative Spanberger grew up in Henrico County. She earned her B.A. at the University of Virginia and her MBA at a dual degree program between Purdue University's Krannert School and the GISMA Business School in Hanover, Germany. Representative Spanberger resides in Glen Allen, Henrico County, Virginia with her husband, Adam, and their three children.
Rep. Abigail Spanberger has been a guest on 1 episode.
January 21st, 2021 | 1 hr 2 mins

centrism, covid, elections, joe biden, transition

On today's Bulwark podcast, Rep. Abigail Spanberger joins Charlie Sykes to talk about centrism and its future, and whether Joe Biden can succeed.