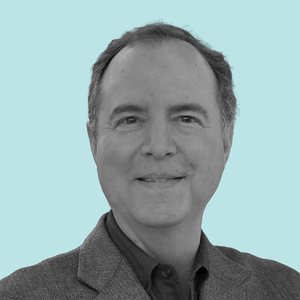 Adam Schiff
Special guest
Adam Bennett Schiff (born June 22, 1960) is an American lawyer and politician who has served as a U.S. Representative since 2001. A member of the Democratic Party, he has represented California's 28th congressional district since 2013.
Schiff's district (numbered as the 27th from 2001 to 2003 and as the 29th from 2003 to 2013) is centered in the San Gabriel Valley east of Los Angeles, including Pasadena, Glendale, and Burbank. For his first six terms, he represented a district that included the areas of Alhambra, Altadena, San Gabriel, Burbank, Glendale, South Pasadena, Temple City, Monterey Park, and Pasadena. In 2010, his district's boundaries were redrawn to include, among others, La Cañada Flintridge and La Crescenta-Montrose as well as large parts of Los Angeles itself including Sunland-Tujunga, Hollywood, the Hollywood Hills, West Hollywood, Echo Park, Silver Lake, and Los Feliz.
Schiff chairs the United States House Permanent Select Committee on Intelligence. He is on leave from the House Appropriations Committee, which he joined in 2007. He previously served on the Foreign Affairs Committee and the State, Foreign Operations and Related Programs Subcommittee of the Appropriations Committee.
Adam Schiff has been a guest on 1 episode.
November 18th, 2021 | 35 mins 54 secs

adam kinzinger, battleground states, big lie, bill barr, carter page, collusion, devin nunes, fisa, george papadopoulos, hillary clinton, impeachment, jim jordan, june 2016, kevin mccarthy, kremlin, liz cheney, maga, manafort, midterms, mueller, paul ryan, polling data, qanon, republican party, russians, steele dossier, stolen emails, tea party, trump, trump tower, ukraine, wikileaks

"If you persuade people that we cannot rely on our elections to decide who should govern, then what is left but violence?" Rep. Adam Schiff joins Charlie Sykes on today's podcast.