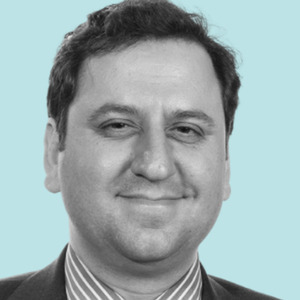 Edward-Isaac Dovere
Special guest
Edward-Isaac Dovere is a staff writer for The Atlantic. He has covered Democratic politics for 15 years—beginning in his native New York, onto the Obama White House and then across 29 states during the 2020 election cycle. He is the author of Battle for the Soul: INSIDE THE DEMOCRATS' CAMPAIGNS TO DEFEAT TRUMP.
In 2006, Dovere was the founding editor of City Hall, focused on New York City politics, which a year and a half later expanded into The Capitol, focused on state politics. He was twice recognized for best political coverage by the New York Press Association, and won the Society of Professional Journalists' Daniel Pearl Award for investigative reporting for a series exposing the muddled finances of the Working Families Party.
Dovere has been covering national politics since 2011, first at Politico, where he was the senior White House reporter and later chief Washington correspondent, and at The Atlantic since 2018. He won the White House Correspondents' Association's Merriman Smith Award for excellence for reporting on Obama's historic first trip to Cuba. He was the host of Politico's Off Message podcast and The Atlantic's The Ticket podcast.
Dovere attended Johns Hopkins University and the University of Chicago. He lives in Washington, D.C., with his family.
Edward-Isaac Dovere has been a guest on 1 episode.
June 3rd, 2021 | 54 mins 39 secs

2020 election, barack obama, bernie sanders, democrats, donald trump, elizabeth warren, joe biden

On today's Bulwark podcast, Edward-Isaac Dovere joins Charlie Sykes to discuss his new book: Battle for the Soul: Inside the Democrats' Campaigns to Defeat Trump.