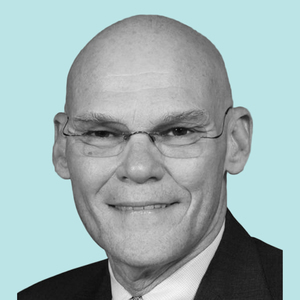 James Carville
Special guest
James Carville is a Democratic strategist and co-host of the_ 2020 Politics War Room with Al Hunt._
Carville was formerly co-host of Crossfire, CNN's political debate program. Carville, an outspoken Democratic political strategist and commentator, emerged onto the national political scene after his consulting firm, Carville & Begala, helped elect President Bill Clinton in 1992. For his work on the Clinton campaign, the American Association of Political Consultants named him Campaign Manager of the Year in 1993. He went on to serve as a senior political adviser to the president.
James Carville has been a guest on 2 episodes.
October 8th, 2021 | 52 mins 42 secs

democratic party, democrats, garland, gop, james carville, lsu tigers, mcauliffe, republicans, senate, trump, virginia, youngkin

Democrats on Twitter don't win votes and won't save our democracy from the madman who's back to playing his golden escalator greatest hits. James Carville and Tim Miller join Charlie Sykes on today's podcast. When will the Democrats see that constructive criticism is really an act of love?

May 12th, 2020 | 35 mins 51 secs

2020, barack obama, bloomberg, covid-19, donald trump, gop, joe biden, senate races, trumpism

On today's Bulwark Podcast, James Carville joins host Charlie Sykes to discuss the 2020 election, why he's confident Biden will win, but uncertain that a win will put an end to Trumpism. Plus, the Veepstakes, telegraphing potential cabinet picks, and the down ballot races.