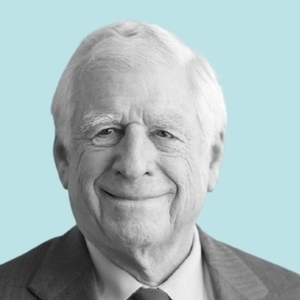 Sen. John Danforth
Special guest
Former Senator John C. Danforth brings to Dowd Bennett the strategic insights and wisdom gained from a distinguished career in public service and the law. He continues to advocate on behalf of the St. Louis region through his work with the firm.
Jack currently serves on the boards of the Cerner Corporation and the nonprofit, nonpartisan Commission on Presidential Debates, as well as on the national advisory board of the John C. Danforth Center on Religion and Politics at Washington University.
An ordained Episcopal priest, Jack is the author of Resurrection (1994), Faith and Politics: How the "Moral Values" Debate Divides America and How to Move Forward Together (2006), and The Relevance of Religion (2015).
Following his elected service, Jack held appointments in both Republican and Democratic administrations. He was U.S. Ambassador to the United Nations, and later, special envoy to Sudan, where his focus was negotiating an end to the civil war in the South. Before that, Jack was special counsel in the investigation of the federal raid on the Branch Davidian compound in Waco, Texas.
Prior to his election to the U.S. Senate, Jack was elected and served eight years as attorney general for the state of Missouri.
Sen. John Danforth has been a guest on 1 episode.
February 1st, 2021 | 44 mins 34 secs

conservatism, future, gop, john danforth, josh hawley, missouri, politics, senate

On today's Bulwark podcast, former Missouri Senator John Danforth joins guest host Jim Swift to talk about the rise and fall of Josh Hawley, his regrets about helping his career, and what the future of the Republican party looks like in Missouri and beyond.