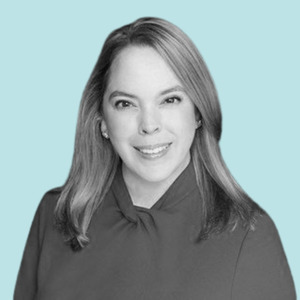 Olivia Troye
Special guest
Olivia Troye is a risk management and national security executive whose most recent role was serving as the Homeland Security, Counterterrorism, and White House Coronavirus Task Force Advisor to the Vice President of the United States. Recently named as one of InStyle's 50 Women Making the World a Better Place in 2021, Olivia was among the first to speak out against her own party's mishandling of COVID-19 and defend healthcare workers.
During her tenure in the White House, she was responsible for tracking and covering all imminent and evolving domestic and international security threats, natural disaster events, and managing complex policy decisions and responses to large scale crisis events facing the American people.
Prior to this role, she served in the Office Of Intelligence & Analysis at the Department of Homeland Security as Chief of Strategy, Policy & Plans. Olivia has also served on the leadership staffs in the Department of Defense, the National Counterterrorism Center, the Department of Energy, as well as in the private sector for organizations such as the U.S. Chamber of Commerce and General Dynamics Information Technology.
Olivia has worked some of the most complex issues and crisis responses of our time. As a first-generation immigrant and first-generation college student, her background and work ethic has led to her following the untraditional and road less traveled in her career choices and endeavors.
Fluent in Spanish and hailing from El Paso, Texas, she is a graduate of the University of Pennsylvania, the National Defense University's College of International Security Affairs, and the Naval Postgraduate School's Center for Homeland Defense and Security.
Olivia Troye has been a guest on 3 episodes.
September 13th, 2021 | 49 mins 4 secs

afghanistan refugees, chris christie, covid-19 pandemic, george w. bush 9/11 speech, olivia troye, september 11th

On today's podcast, Olivia Troye joins host Charlie Sykes to discuss GWB's 9/11 speech, Chris Christie, the fight over refugees, and the looming COVID winter.

April 26th, 2021 | 42 mins 52 secs

covid-19, crazy, democracy report card, disinfectant, extremism, gop, light, republican accountability project, trump

On today's Bulwark podcast, Olivia Troye joins Charlie Sykes to talk about the Republican Accountability Project's new Democracy Report Card, the anniversary of Trump's disastrous disinfectant press conference, and how the GOP has absorbed crazy far-right extremists.

January 15th, 2021 | 50 mins 15 secs

capitol, domestic terrorism, donald trump, inauguration, joe biden, maga, siege

On today's Bulwark podcast, Olivia Troye and Elizabeth Neumann join host Charlie Sykes to talk about the siege of the Capitol on January 6, and what to do next.