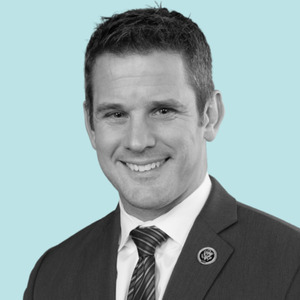 Rep. Adam Kinzinger
Special guest
Adam D. Kinzinger is currently serving his fifth term in the United States House of Representatives and proudly represents Illinois' Sixteenth Congressional District, which stretches across 14 counties in Northern Illinois.
Prior to being elected to Congress, Kinzinger served in the Air Force in both Operation Iraqi Freedom and Operation Enduring Freedom. He has always been a strong supporter of U.S. leadership in the Middle East, and he was among the first members of Congress to call for airstrikes against ISIS. He continues to focus on eradicating this threat with a comprehensive and detailed strategy.
In 2007, he received the United States Air Force Airman's Medal for saving the life of a young woman who was being violently attacked. He wrestled the knife away from the attacker and pinned him to the ground until the police arrived. He was also awarded the National Guard's Valley Forge Cross for Heroism and was selected as the Southeastern Wisconsin American Red Cross Hero of the Year.
At the age of 41, Congressman Kinzinger is one of the youngest Members of Congress, yet he ranks in the top half of seniority in the full House of Representatives. He was named 'A Republican Role Model for 2017' by the Washington Post and is frequently applauded for his pragmatic approach to the myriad of issues facing America, and the world.
Rep. Adam Kinzinger has been a guest on 8 episodes.